When determining whether or not a senior should age in place or relocate to an independent or assisted living facility, the need for socialization is key. 
In today's environment, Aging in Place is a big buzzword. It's a fabulous idea if you happen to be in the business of widening doors for wheelchairs and installing stair lifts. Then it's a boon to the economy!
However, it's not always the sensible choice. There are many factors to consider, including health, mobility, and whether or not your senior has regular, steady socialization. (True socialization does not include getting your newspaper every morning and waving at the 30-year old across the street who just moved in with their 1.2 children.)
To help you navigate the decisions you need to make when determining whether or not your senior can age in place happily and safely, I've put together this flowchart. Click here to view and download the chart as a PDF. Then go through and ask yourself each question, making notes and circling any elements that apply to your senior's situation.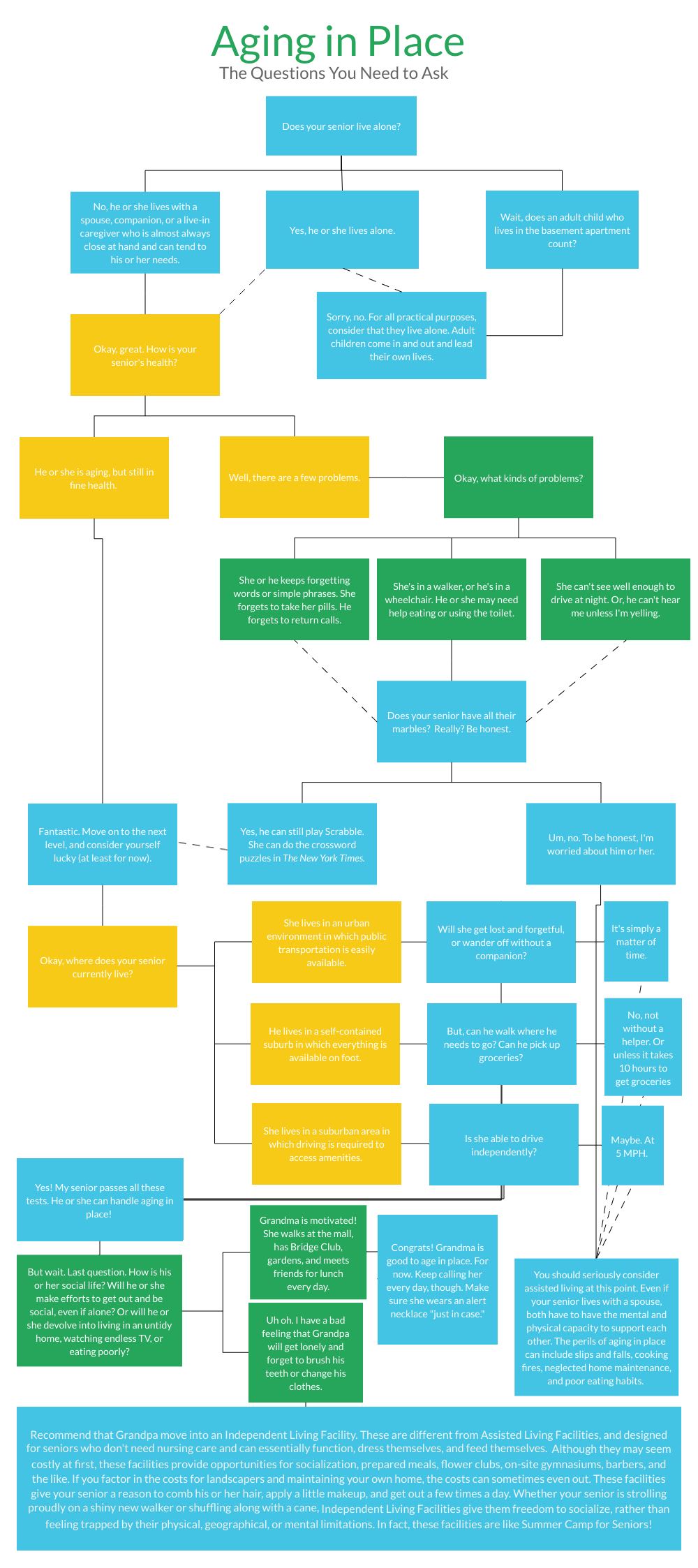 In the 14 years that I have been helping clients make these important decisions, I have run into a dozen seniors who aged in place. Some had company. Others didn't have regular mental stimulation. After considering all the other factors included in the flowchart, I've found that socialization is crucial to making aging in place a success. 
The good news is that if your senior does decide that an independent living facility is the right choice, they are in for a treat. They will make friends, gain new interests and hobbies, enjoy meals with companions, and feel in control of their lives.
Note: When choosing an independent living facility, also be sure to factor in a long-term view. Some of these facilities will provide nursing and assisted care to residents as the need for more care presents itself. Many independent facilities either have separate floors or adjacent buildings where seniors may relocate if their health deteriorates. This can give you great peace of mind!
My own mother's story is a powerful one. Living alone in Florida and far from her adult children, she began to experience a loss of vision. She could no longer drive at night. She no longer enjoyed cooking, but she didn't want to eat alone. She felt trapped and locked in. Yet she had a predisposition against independent living facilities. "Those places are for old people!" was her common refrain.
Fortunately, my mother had a good friend who lived in one of "those places." Once she was able to see how happy and content her friend was, she hired a mover the next day. This decision restored her freedom and increased her enthusiasm for life.
Please let me know if this flowchart helped you balance the pros and cons of aging in place. What eventual decision did you reach? I'd love to hear from you.
Until then, please reach out to me with any questions.
Best wishes,
Sharon
646-784-3073
www.360demenager.com
Subscribe to Receive My Newsletter: